Meet Wellness Warrior: Emily Ratchford
Making It Work
Emily is a mom of 3, including a set of twins. Staying healthy, mentally and physically is very important to her and as she practices yoga and work with a trainer to stay in shape. She also love taking surf trips a few times a year with girlfriends.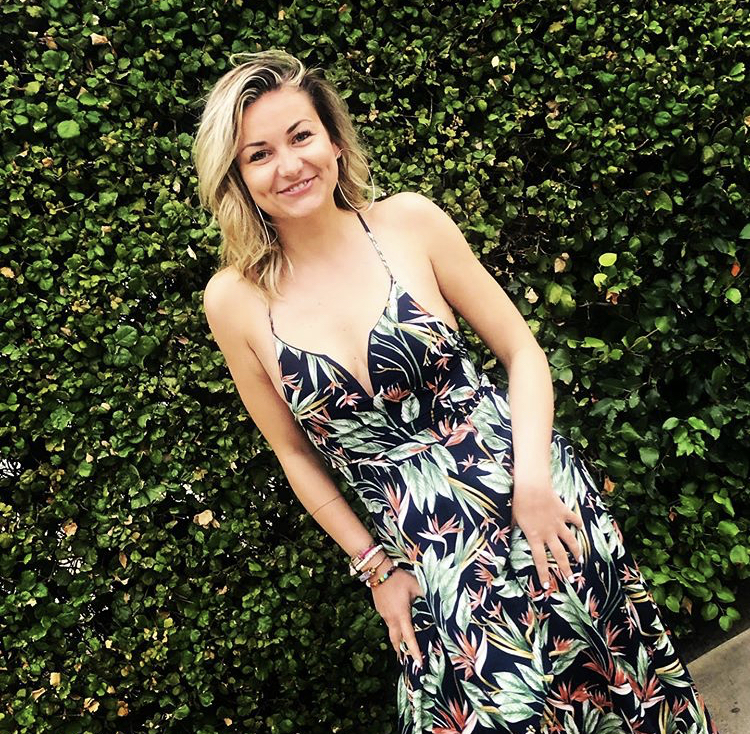 Emily's incredible transformative wellness journey hit the ground running—and she's not stopping any time soon. Her drive, her passion and creative innovation has propelled her into sustainable clothing powered by regenerated ocean waste. Her lifelong mission did not start with plastic consumption awareness but she's a mom, active enthusiast, an aspiring yoga teacher and someone who believes that we can make better consumer choices that impact all of us.
Getting to Know Emily
She's a corporate buyer turned entrepreneur with a repurposed ocean waste activewear line called "Free Flow".
What is your go-to nourishing meal?
My go-to nourishing meal is soup. It's fast, easy, filling and nutritious. I never follow a recipe and just use whatever veggies I have in my fridge and throw it together.
What is your favourite, most INDULGENT meal?
Really, really good pasta and red wine.
When you work out, what do you wear?
I practice a lot of hot yoga so my go to is leggings and a sports bra.
What is the work out you never thought you would love?
Surfing. Although I don't get to do as often as I would like, it is super challenging. It's an amazing workout for your total body and being in the ocean all day leaves you feeling incredible.
What is one act of self-care that you practice that surprises you?
Meditation. It's been a practice that has taken awhile to get into a solid routine but it's become part of my morning routine and now I can't miss it. On a regular basis, I find myself second guessing decisions and I find meditation has helped me fine tune my intuition. I use the Calm app.
What do you feel sexiest/beautiful/badass wearing?
A black dress and leather jacket.
What are you reading right now?
I just finished reading Dare to Lead by Brené Brown and thought it was phenomenal. I actually want to go back and read it again. I highlighted lots of notes in it!
What advice do you have on weighing yourself?
My scale broke a few years ago and I never replaced it. For me, it's about how my clothes fit and feel. I find numbers on a scale can be deceiving.
Share your tips and tricks in the kitchen?
I don't know if I have any real kitchen tips or tricks. I have discovered a mom dinner hack though. My kids love "baby charcuterie boards" – plates of pepperoni sticks, salami, grapes, apples, cheese and crackers. They absolutely love it and it is super easy.
What does it look like for you when you're feeling your best?
Calm and lots of laughing!
I had built an incredible corporate career as a buyer for over 10 years. I remember at one point, I decided it wasn't fulfilling any longer—my passion or desire for creativity were drying out. So, I switched gears and focused my energy on building what makes me happy.
After I completed my 200 hour Yoga Teacher Training with Power Yoga Canada, I created an activewear line called "Free Flow". The idea manifested on a surf trip to Bali in 2018, where I saw—firsthand—how horribly the ocean was overrun by plastic. And the wave of inspiration hit me: I needed to create an activewear line that used fabric made from regenerated ocean waste. The items can all be worn working out or in the water. A portion of the proceeds goes to fund beach cleanups around the world.
I am very passionate about creating apparel that is highly functioning, well designed, sustainably made and just as affordable as anything else.
What was it costing you when there may have been periods in your life that you weren't paying attention to yourself and your own sense of wellness?
Most recently, I had experienced a point in my life where I had way too much on my plate. I was working at a job I absolutely hated, and had convinced myself was great, being a mom of 3, keep up with my social circle and find time for myself. It was chaotic and exhausting. Turns out, I wasn't doing anything well at all. I was an absolute scattered hot mess. I took a step back and eliminated everything that contributing to the overall health of myself or family. This meant removing myself from certain relationships and eliminating self-sabotaging habits. I leaned more into my yoga practice and freed up space in my life so I could slow down. It was hard to do! I'm such a busy person, it felt really unnatural but it was absolutely necessary.
How do you keep yourself on track and disciplined to keep these wellness practices ongoing in your life when things get busy?
I'm a morning person so I prefer getting a class or training session in at 6 am before I start my day. I find just getting up and going without having time to talk yourself out of it works really well. Whenever I feel myself procrastinating, I turn my focus on how good I am going to feel afterwards.
I had grown up as a ballet dancer so being physically active has always been part of my life. I was never much of a traditional sports athlete but really loved ballet and even had the experience of training at a professional ballet school at a young age. As I grew older and my dance career ended, I had slipped away from physical activity and focused on school and my career.
My journey back into physical activity came about when I was getting married and looking to get in better shape for my wedding. That is when I first discovered Hot Yoga and Power Yoga Canada and became addicted to it. The mental and physical practice of it has completely changed my life and has provided me with so many connections and opportunities. It also inspired me to complete my teacher training myself and to take the leap to start my own business, which is something I've wanted to always do.
I choose to surround myself with people who are positive, uplifting and inspiring. My belief is that your inner circle should want to see you win and who you want to support. My current mindset is around simplicity and focusing on people, activities and food that make me feel like the best version of myself. Sometimes that means making tough decisions to eliminate or re-evaluate certain relationships or habits that I know aren't good for me at this stage in my life. My current focus is really based around following my intuition and heart.
I try not to restrict my diet too much but I tend to stay away from most dairy and have never been much of a meat eater. I love fish and seafood. And wine. I really, really love wine.
Catch up with Emily on Instagram